2017
21 July 2017 - Next planned litter is with Mieka and Moose. Mating approx. October and litter born December.
This will be Mieka's third litter with Moose. To see photos of her puppies see litter 2014 and 2015. Mieka has 2 puppies with Assistance Dogs Australia dogs. One is a working service dog and the other a breeding dog.
Will post next update in late Oct after mating with approx. date with ultrasound to confirm pregnancy.
2018
Early 2018 will be Jazmine's last litter.
Updated 21 July 2017
Photo Top - Jazmine with her puppies Bottom - Mieka and Moose puppies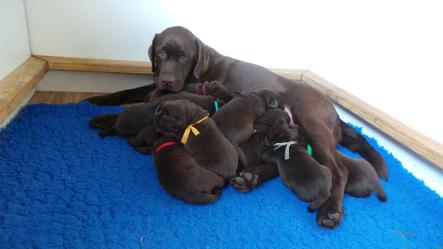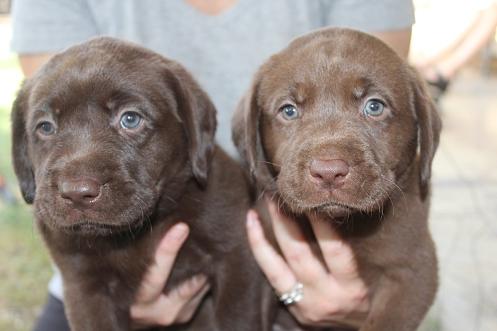 Interested in Romsen Puppy?
We start taking names on a waiting list for the planned litter when the pregnancy is confirmed by ultrasound.
When the wait list is open we usually wait a week or two before advertising the litter so those who have been waiting for our next litter do not miss out. The waiting list fills up very quickly when I advertise so if you don't want to miss out you need to check our website and like our Facebook page for updates.
When the wait list is open, please call. I do restrict the number on the waitlist but unfortunately this cannot guarantee a puppy as I do not know the number of pups or sex until they arrive.
Puppies are $1800 on limited register. Main register by agreement. Click here for information about the different registers.
A $300 deposit will be required when the puppies are born and a puppy has been confirmed for you.
If you have not owned a Labrador before please visit The Breed page for information about being a lab owner. It also includes important health information.